NEW: We went down to East Palestine for a week to get residents' side of the story after the Ohio rail disaster.

People told us they're getting sick and their pets are dying, while Norfolk Southern is trying to cover it up.@heyjohnrussell reports. pic.twitter.com/LY7koUIpeL

— More Perfect Union (@MorePerfectUS) March 9, 2023

First it was small animals dying, now it's pets.
We're working our way up to humans.
Last month, Brenda Foster stood on the railroad tracks at the edge of her yard in East Palestine, Ohio and watched a smoky inferno billow from the wreckage of a derailed train. The chemicals it was carrying – and the fire that consumed them – were so toxic that the entire area had to evacuate. Foster packed up her 87-year-old mother and they fled to stay with relatives.

With a headache, sore throat, burning eyes and a cough, Foster returned home five days later – as soon as authorities allowed. So when she saw on TV that there was a hotline for residents with health concerns, she dialed as soon as the number popped up on the screen.

The people who arrived offered to test the air inside her home for free. She was so eager to learn the results, she didn't look closely at the paper they asked her to sign. Within minutes of taking measurements with a hand-held machine, one of them told her they hadn't detected any harmful chemicals. Foster moved her mother back the same day.

What she didn't realize is that the page of test results that put her mind at ease didn't come from the government or an independent watchdog. CTEH, the contractor that provided them, was hired by Norfolk Southern, the operator of the freight train that derailed.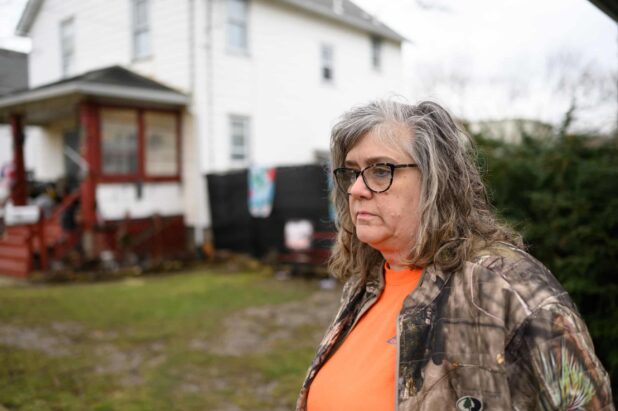 Brenda Foster
And, according to several independent experts consulted by ProPublica in collaboration with the Guardian, the air testing results did not prove their homes were truly safe. Erin Haynes, a professor of environmental health at the University of Kentucky, said the air tests were inadequate in two ways: they were not designed to detect the full range of dangerous chemicals the derailment may have unleashed, and they did not sample the air long enough to accurately capture the levels of chemicals they were testing for.

"It's almost like if you want to find nothing, you run in and run out," Haynes said.

About a quarter century ago, the Center for Toxicology and Environmental Health was founded by four scientists who all had done consulting work for tobacco companies or lawyers defending them. Now known by its acronym, CTEH quickly became a go-to contractor for corporations responsible for industrial disasters. Its bread and butter is train crashes and derailments. The company has been accused repeatedly of downplaying health risks.

In since-deleted marketing on its website, CTEH once explained how the data it gathers about toxic chemicals can be used later to shield its clients from liability in cases brought by people who say they were harmed: "A carrier of chemicals may be subjected to legal claims as a result of a real or imagined release. Should this happen, appropriate meteorological and chemical data, recorded and saved … may be presented as powerful evidence to assist in the litigation or potentially preclude litigation."

Despite this track record, the company has been put in charge of allaying residents' concerns about health risks and has publicly presented a rosy assessment.

It was CTEH, not the Environmental Protection Agency (EPA), that designed the testing protocol for the indoor air tests.

And it is CTEH, not the government, that runs the hotline residents are directed to call with concerns about odors, fumes or health problems. Local and federal officials, including the EPA, funnel the scared and sick to company representatives.

In a statement, Paul Nony, CTEH's principal toxicologist and senior vice-president, said the company has responded to thousands of incidents and its environmental monitoring and sampling follows plans approved and directed by the incident commanders of each response. "Our highly skilled, certified specialists include PhD toxicologists, masters in public health, industrial hygienists and safety professionals, as well as hazardous materials and registered environmental managers," he wrote.

He added that CTEH has been "working side-by-side" with the EPA in East Palestine "and comparing data collected in the community and in people's homes to ensure that we are all working with the most accurate data". Hotline callers receive information, Nony wrote, that is "based on the latest data collected by CTEH and EPA, vetted together to ensure the accuracy of the public health information provided".

The circumstances of the testing are unclear. The EPA said its representatives have, indeed, accompanied CTEH to residents' homes, overseen the company's indoor air tests and performed side-by-side testing with their own equipment. But some residents told ProPublica that even though multiple people came to their doors, only one person had measuring equipment. An agency spokesperson said CTEH's testing protocol "was reviewed and commented on by EPA and state and federal health agencies".

Stephen Lester, a toxicologist who has helped communities respond to environmental crises since the Love Canal disaster in upstate New York in the 1970s, said he was concerned about Norfolk Southern's role in deciding how environmental testing is done in East Palestine. "The company is responsible for the costs of cleaning up this accident," Lester said. "And if they limit the extent of how we understand its impact, their liability will be less."

An EPA spokesperson said that the federal blueprint for responding to such emergencies requires responsible parties, in this case Norfolk Southern, to do the work – not just pay for it. But the agency has the authority to perform or require its own testing.

The relationship between CTEH and Norfolk Southern wasn't clear to several residents ProPublica interviewed. Before testing begins, people are asked to sign a form authorizing the "Monitoring Team," which the document says includes Norfolk Southern, "its contractors, environmental professionals, including CTEH LLC, and assisting local, state, and federal agencies". An earlier version of the form included a confusing sentence that suggested that whoever signed was waiving their right to sue. Norfolk Southern said that was a mistake and pulled those forms.

In a written response to questions, Norfolk Southern said it "has been transparent about representing CTEH as a contractor for Norfolk Southern from day one of our response to the incident". The company also pointed to a map on its website displaying CTEH's outdoor air-monitoring results that says "Client: Norfolk Southern" in tiny type in the corner. "We are committed to working with the community and the EPA to do what is right for the residents of East Palestine," a Norfolk Southern spokesperson wrote in an email.

When told by a reporter that the contractor, CTEH, was hired by the rail company, Foster's face fell. "I had no clue," she said. Looking back, she said, the people who came to her door never said anything about Norfolk Southern. They didn't give her a copy of the paper that she had signed.

…

According to the EPA, CTEH's indoor air testing in East Palestine consists of a one-time measurement of what is known as volatile organic compounds, or VOCs. These airborne chemicals can cause dizziness and nausea, and, over the long term, some VOCs can cause cancer. Vinyl chloride, a VOC that was carried by the derailed train and later ignited, can cause dizziness and headaches and increase the incidence of a rare form of liver cancer, according to the EPA. The machine that CTEH uses in East Palestine captures VOCs if they're above 0.1 parts per million (ppm), but it doesn't say which specific compounds are present.

CTEH said that when VOCs are detected, the company then tests for vinyl chloride. According to the EPA, the indoor testing has detected VOCs in 108 buildings before 21 February and 12 buildings after that. Follow-up tests found no vinyl chloride, according to CTEH and the EPA. CTEH's Nony said, "CTEH has not considered conducting long-term VOC air sampling in the homes because real-time air monitoring results do not indicate a significant impact of VOCs related to the derailment in the homes."

But five experts on the health effects of chemicals consulted for this story said that the failure to detect VOCs should not be interpreted to mean that people's homes are necessarily safe.

"VOCs are not the only chemicals that could have been in the air," said Haynes, the environmental health professor. Haynes also said that because the testing was a snapshot – as opposed to an assessment made over several days – it would not be expected to detect VOCs at most household levels.

Many of the toxic chemicals that were airborne in the early days after the derailment, including pollutants that can cause cancer and other serious problems, may have settled out of the air and onto furniture and into crevices in houses, Haynes said. So she also recommended testing surfaces for compounds that could have been created by the burning of vinyl chloride, such as aromatic hydrocarbons, including the carcinogen benzene. Young children who play on the floor are especially vulnerable, Haynes added.

Even a week after the derailment, Haynes said VOCs likely would have dissipated. "To keep the focus on the air is almost smoke and mirrors," she said. "Like, 'Hey, the air is fine!' Of course it's going to be fine. Now you should be looking for where those chemicals went. They did not disappear. They are still in the environment."
This is from The Guardian again.
The American media is still refusing to cover this in any meaningful way.
The American media, which is obsessed with telling people they have to completely change the fundamental existence in the name of "environmentalism," is not interested in the slightest in the single biggest environmental disaster in US history.