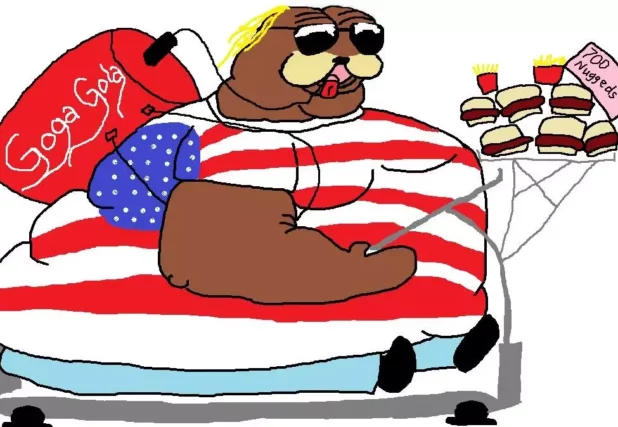 Previously:
How is the mainstream saying that weight loss drugs have health benefits, and also saying "healthy at any size" (i.e., being fat is healthy)?
Can both these things be true?
Obviously not.
Can you think of other examples where the Jewish establishment promotes narratives that are the opposite of each other, and insists that both are absolute fact???
Novo Nordisk said on Tuesday a large late-stage study showed its obesity drug Wegovy had a clear medical benefit, in addition to weight loss, boosting the Danish drugmaker's hopes of moving beyond Wegovy's image as a lifestyle drug.

In a statement, the Danish drugmaker said the weekly injection reduced the risk of a major cardiovascular event like a stroke by 20% in overweight or obese people with a history of heart disease, exceeding expectations from a key late-stage trial.

That's significantly better than the 15-17% expected by investors and analysts ahead of the eagerly-awaited data.

The study called SELECT involved 17,500 patients aged 45 years or older with no prior history of diabetes and started almost five years ago testing if the weekly injection has medical benefits.

The news sent shares in Europe's second-most valuable listed company after LVMH up more than 13% to record highs. The shares have surged almost 150% over the past two years.

The results may help persuade insurers in the United States and cost-conscious health authorities in Europe to cover the cost of Wegovy for a broader segment of patients.

The U.S. Medicare health plan for older Americans, for example, classifies weight-loss treatments as lifestyle drugs.

Experts say the new data could lead the U.S., where Wegovy costs $1,300 a month, to reassess that.

The landmark trial data shows Wegovy has "the potential to change how obesity is regarded and treated," said Martin Holst Lange, executive vice president for development at Novo Nordisk, in a statement.

Novo Nordisk said it expects to file for regulatory approvals of a label indication expansion for the weekly injection in the United States and European Union this year.

The detailed results from the trial will be presented at a scientific conference later in 2023.
I don't think these drugs are healthy. (I also think that if anyone can't control what they shove in their mouth, they are so weak we should let them die.)
That said, even with all of the strange side effects of these drugs, probably, simply losing the weight is going to, on balance, increase their general level of health, because being fat is just so, so, so very bad for you.
Obesity is associated with every single negative health outcome. All of them.
But, also, you know…
I'm Britain's top fat-fluencer – trolls say I'm a whale but I know I'm healthy https://t.co/XiuRm9UNvX pic.twitter.com/c6Hq2blOxE

— Daily Mail Online (@MailOnline) August 2, 2023