"Following a meeting yesterday with US National Security Advisor Jake Sullivan, Israeli military chief Aviv Kohavi says Israel and the US need to accelerate joint plans for offensive actions against Iran." https://t.co/n2HLHL0Fsq#Warmongers

— The Ghost of Dr Carl Jensen (@Cecalli_Helper) November 22, 2022
Previously: Multiple Bombings Across Israel! Many Dead!
This is what was happening in the days and hours before these very convenient bombings in Israel: the Jews were demanding that the US prepare for war with Iran.
It's just a coincidence, goy.
RT:
Israel Defense Forces (IDF) Chief of Staff Aviv Kochavi has called on the United States to develop new "operational plans" to take on the Iranian military, urging top US defense and intelligence officials to "accelerate" joint efforts to counter the Islamic Republic.

Kochavi held a series of meetings with Chairman of the Joint Chiefs of Staff Mark Milley, National Security Advisor Jake Sullivan and CIA Director William Burns, the IDF said in a press release on Tuesday, noting that he discussed the "Iranian threat" with each of the officials he had spoken with since landing in the US on Sunday morning.

"We are at a critical point in time which requires the acceleration of the operational plans and the cooperation against Iran and its proxies in the region," Kochavi said after the meetings. "On the one hand, Iran is under many economic, military and internal pressures, and on the other hand continues to advance the nuclear project."
US National Security Advisor Jake Sullivan to Chief of Staff Aviv Kochavi: Biden committed to ensuring Iran never acquires a nuclear weapon. https://t.co/JBqUcpRYn5

— Israel National News – Arutz Sheva (@ArutzSheva_En) November 22, 2022
During his sit-down with General Milley, the two officials allegedly discussed "strengthening cooperation between the [US and Israeli] armies against threats in the region, chief among them the Iranian nuclear threat," according to the IDF.

According to a US readout of Kohavi's meeting with Sullivan, the sides "emphasized their shared determination to address security challenges," while the White House reaffirmed its "commitment to ensuring that Iran never acquires a nuclear weapon."
The US is obviously busy focusing on Russia, and doesn't have the resources to launch a second war against Iran.
Of course, the war against Russia is also a Jewish agenda, but that is primarily coming from the Russian Jews that have so much power in America. If anything, Israeli Jews are uncomfortable with the war on Russia, because: a) they are making money in Russia, and b) they are dependent on Russia cooperating with them in Syria. (That said, much of Israel's hesitancy on Russia seemed to be about biding time for big Jews in Russia to get their assets moved to Israel – they've recently changed tone on that.)
As you may have determined, Israel First Jews tend to prefer the Republican Party, which puts Israeli issues before American Jewish issues like Russia. This is why even when Trump is on the ballot, 20% of Jews will vote GOP. These are the religious Jews who put Israel before global domination, and want war with Iran before war with Russia and China.
However, Trump did not do nearly enough for Israel, which is why Jews are unified in trying to replace him with Ron DeSantis.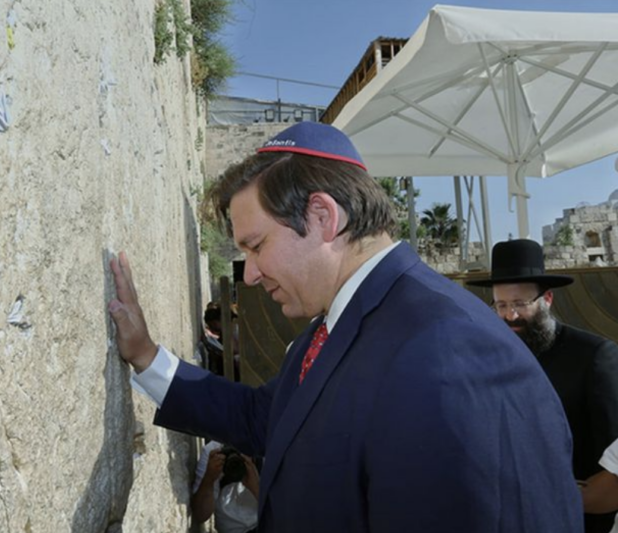 For Israel, the only thing that matters is their own "security," and Iran is the biggest threat to that security. However, there are no Israeli billionaires, so Israel's policy agenda is set by Jews in America. The military and the Mossad (which controls the IDF) are their own thing that foreign Jews don't try to influence, but they don't have the authority to start a war. They can, say, blow up bus stations in Israel and then go demand that the American Jews do what they want them to do.
Jerusalem bombing: Teen killed in attack, 19 others injured | Israel News – The Jerusalem Post. A difficult morning in Israel with a deadly terror attack in Jerusalem and the kidnapping of a young Israeli's body by Palestinians. We shall overcome 🇮🇱 https://t.co/tR3NF6gw2i

— Emmanuel Nahshon (@EmmanuelNahshon) November 23, 2022
Jewish political dynamics, like Jewish family dynamics, are extremely unhealthy and based around manipulation and abuse. The message that the Mossad is sending to American Jews by doing a terrorist attack in Israel is "we're going to keep killing people until you do what we want you to do."
Furthermore, we should note that Bibi Netanyahu is on his way back to power, and these bombings solidify that rise. Even liberal Jews will back Bibi if they are worried about getting bombed.