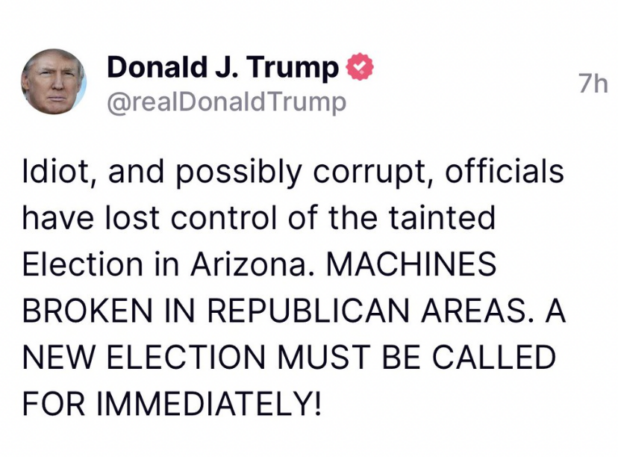 It was obvious that the only good thing that could come from the 2022 midterms was more talk about voter fraud, causing people to lose even more faith in the system.
You'll remember I said exactly that before the election.
RT:
Former US President Donald Trump claimed on Friday that Republican candidate Blake Masters lost his bid for the Senate due to "voter fraud" in Arizona. Masters was preliminarily declared to have lost to Democrat Mark Kelly on Friday, after an election marred by malfunctioning machines and slow counting of votes.

"They're at it again," Trump wrote on his Truth Social platform. "Voting machines in large numbers didn't work, but only in Republican districts. People were forced to wait in line for hours, then got exhausted…and left the voting lines by the thousands.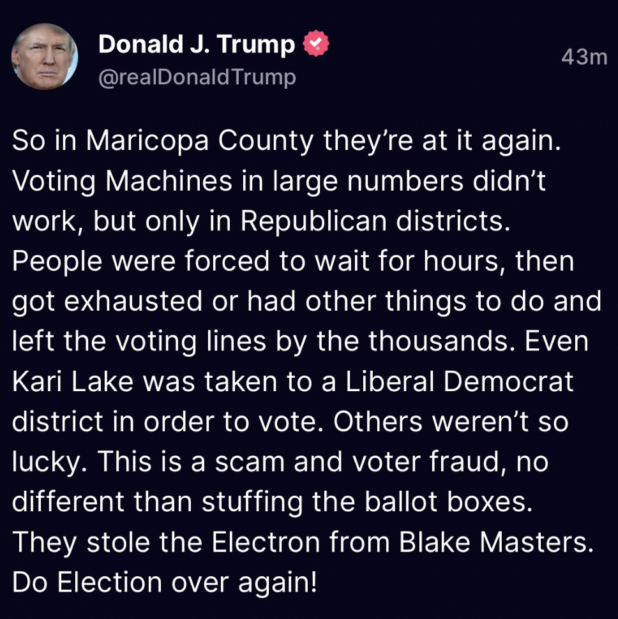 "This is a scam and voter fraud, no different from stuffing the ballot boxes," he continued, referencing his own allegations that pro-Democrat poll workers engaged in ballot harvesting to deliver Arizona to President Joe Biden in 2020.

"They stole the electron (sic) from Blake Masters," he concluded, demanding that officials in the state "do election over again!"

Kelly was declared the winner by multiple US media outlets on Friday night, with the Democrat incumbent leading Masters by 52% to 46%. Masters has not conceded, however, and 13% of the vote is yet to be counted.
How are people accepting that it now takes weeks to count votes? This was always done on the night of the election. People would stay up all night if they had to, but the votes were counted by morning.
They're now trying to act like this is just a "new normal," but there isn't really even an explanation for it. They say it's because of mail-in voting, but that doesn't make any sense. The mail-in ballots are ballots. Why don't they just count them?
It's such an obvious hoax.
People deserve what they get for accepting the dumbest nonsense.
Even if you're so dumb you believe in these fake elections – why do people accept that Mitch McConnell pulled all this money from a race that was supposed to decide the Senate?
💯💯💯Well said!!!@bgmasters: "McConnell decided to spend millions of dollars attacking a fellow Republican in Alaska instead of helping me defeat Mark Kelly. Had he chosen to spend money in Arizona, this race would be over."
pic.twitter.com/ssaXDx2iwp

— Donald Trump Jr. (@DonaldJTrumpJr) November 12, 2022
Everyone needs to say the elections are fake.
Blake Masters himself needs to say it.
It's a big hoax. All of these elections were hoaxes.