🇹🇷🇫🇲🇪🇺 Erdogan is ready to approve Sweden's application for NATO membership on the conditions of Turkey's admission to the EU

📝 "First let's clear the way for Turkey in the EU, and then we clear the way for Sweden, as we did for Finland," the Turkish president said.

🇸🇪 At the… pic.twitter.com/b3d8Wextts

— Zlatti71 (@djuric_zlatko) July 10, 2023

Erdogan has a longterm plan.
That is more than you can say about any leader in Europe.
Turkish President Tayyip Erdogan, in an unexpected move, said on Monday the European Union should open the way for Ankara's accession to the bloc before Turkey's parliament approves Sweden's bid to join the NATO military alliance.

Turkey's bid to join the EU has been frozen for years after membership talks were launched in 2005 under Erdogan's first term as prime minister.

The ties between Ankara and members of the bloc soured several years ago, especially after a 2016 failed coup attempt in Turkey, but have since improved. The bloc depends on the help of NATO ally Ankara, particularly on migration.

In a surprise change of tack, Erdogan on Monday linked Ankara's approval of Sweden's NATO bid to Turkey finally joining the EU.

"I am calling from here on these countries that are making Turkey wait at the door of the European Union for more than 50 years," Erdogan said, speaking ahead of his departure for the NATO summit in Vilnius.

"First, come and open the way for Turkey at the European Union and then we will open the way for Sweden, just as we did for Finland," he said, adding that he would repeat his call during the summit.

A European Commission spokesperson said NATO and EU enlargement were "separate processes."

"The accession process for each candidate country is based on the merits of each country," the spokesperson said, adding that the two processes cannot be linked.

Asked about Erdogan's comments, NATO Secretary General Jens Stoltenberg said while he backs Ankara's membership of the EU, as far as he was concerned Sweden had already met the conditions required to join NATO.

"It is still possible to have a positive decision on Sweden in Vilnius," Stoltenberg told a news conference.

…

Erdogan said Sweden's accession hinged on the implementation of a deal reached last summer during the alliance's summit in Madrid, adding that no one should expect compromises from Ankara.
He literally doesn't compromise.
I don't know how these Europeans are so retarded that they just get took by this guy at every angle.
They should have learned.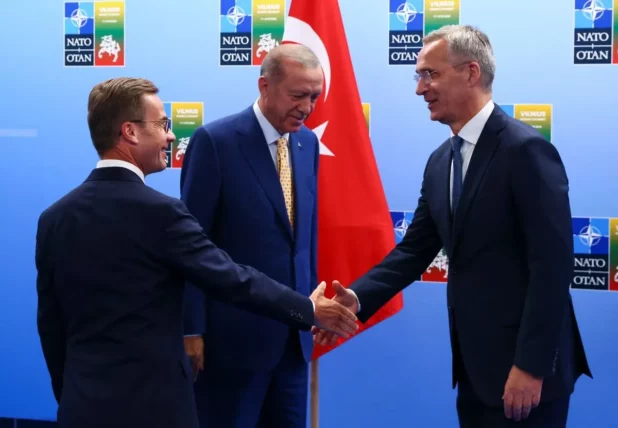 Swedish Prime Minister Ulf Kristersson shaking hands with NATO's Stoltenberg next to Erdogan, July 10, 2023.
Related: Sweden Authorizes Another Koran Burning for Some Reason
Biden also says that it is migrants that are burning the Quran in Sweden.

That also isn't the case.

The most recent Quran burning was done by an Iraqi apostate, but Swedes have previously burnt the Quran on several occasions.

— Visegrád 24 (@visegrad24) July 10, 2023