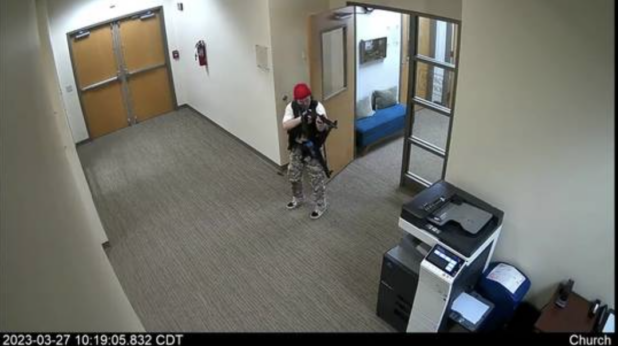 Does this even matter?
Republicans will say "white nationalism is evil" because some poor kid being chased by men with guns crashed his car in Charlottesville, but no single left believer cares if one of theirs does a mass shooting.
So what's the point of talking about it? You're not going to pwn the left.
RT:
Three pages of the hate-filled "manifesto" purportedly written by transgender school shooter Audrey Hale was published by conservative commentator Steve Crowder on Monday amid a months-long legal struggle to make the document public. 

Hale gunned down three children and three staffers on March 27 during a shooting spree at The Covenant School, a private Christian academy in Green Hills, Tennessee, before she was shot and killed by police.
Thanks for the "she," RT.
It really means a lot.
The Metropolitan Nashville Police Department, which has kept her 'manifesto' from the public since the handwritten notes were found among her possessions in her car and at the home she shared with her parents, claimed the motive for the shooting was unclear.
They don't do that with "white supremacy" manifestos!
However, the leaked pages point to a virulent loathing for "little crackers" – white kids – attending "private fancy schools with those fancy khakis and sports backpacks." 

"Wanna kill all you little crackers!!! Bunch of little faggots w/ your white privlages [sic] f*** you faggots," Hale wrote on February 3 under the heading "Kill those kids!!!" 

Hale, who was also white and attended The Covenant School as a child, was being treated for an "emotional disorder" at the time of the shooting, according to MNPD chief John Drake. Described by relatives as having high-functioning autism, she had recently begun identifying as male, using he/him pronouns and the name Aiden, after initially coming out as a lesbian to parents who reportedly rejected both identities for religious reasons.
See – treatment for "emotional disorders" literally means "Jews telling you to become a tranny."
Mental illness is fake. At least most of the time. There are genetic things that get grouped in with "mental illness" that are real, but these are not illnesses, they are genetic defects.