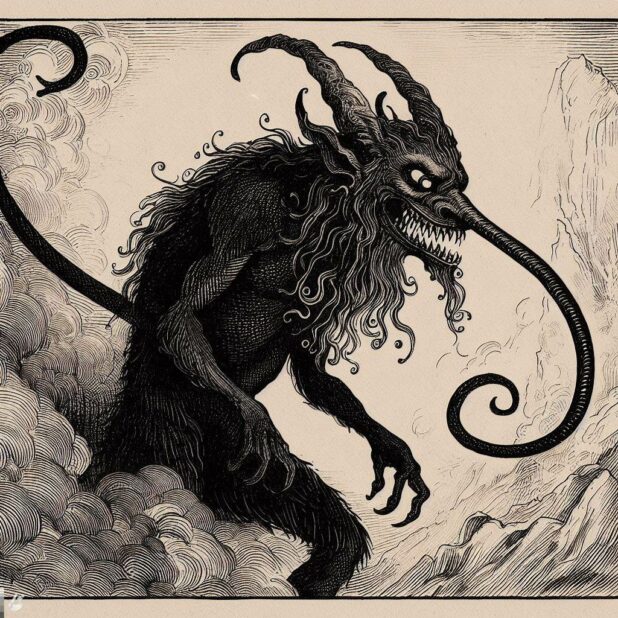 Perhaps it makes sense that everyone is just going ahead and blaming all Jews for this?
It seems that virtually all Jews support it.
I keep seeing posts on /pol/ saying that the Jews have had their minds rotted out by their own stupid utopianist ideological gibberish, and now support this over their own survival.
I don't know how true it is. There does seem to be an age gap here, and of course, many single female Jews support the agenda (they are even calling for blacks to flood Israel).
As regards the headline – 74% approve, but 80% approve of "specific actions" and the funding.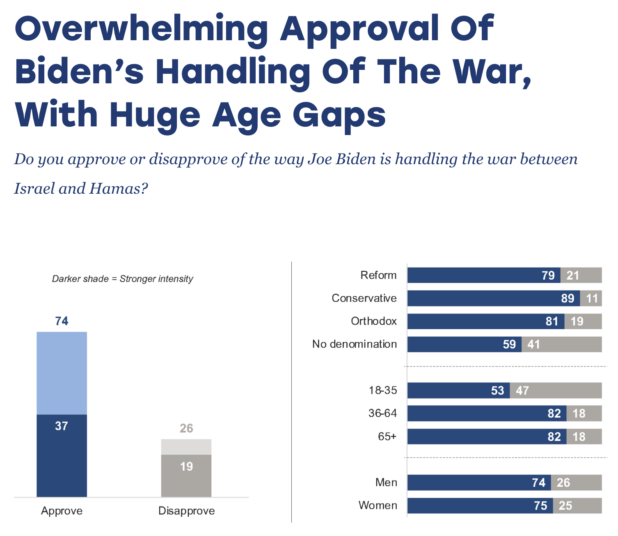 The poll listed the specific actions: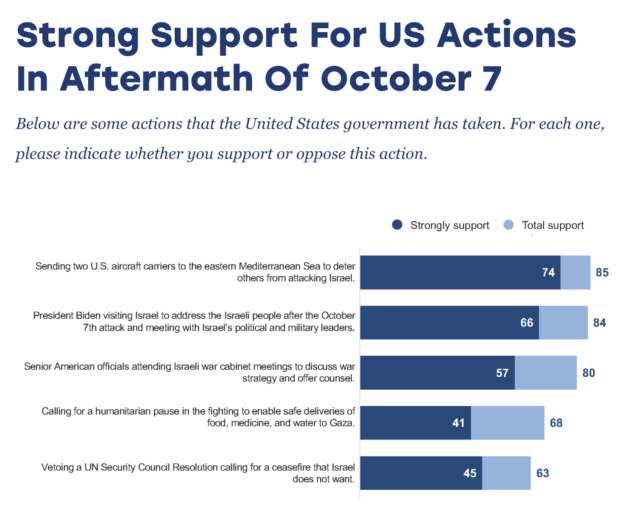 I'm relatively certain this would mean that 6% gap is ones who don't think Biden is going hard enough.
32% said they don't want pauses to give water to the kids.
Jewish voters strongly support President Joe Biden's handling of the Israel-Hamas conflict and would trust him over former president Donald Trump to fight growing antisemitism, a national poll has found.
Again, we have to note: "antisemitism" means hating the Jews for no reason, and it is growing because Jews are slaughtering children in a very public way.
Results released this week by the nonpartisan Jewish Electorate Institute also showed Biden with a considerably higher job approval rating among Jewish voters than among the general U.S. population.

While the results weren't necessarily surprising given that most Jewish voters lean Democrat, "it is reaffirming of the fact that Jews know and trust that Joe Biden stands with us and stands with Israel," said Halie Soifer, CEO of the Jewish Democratic Council of America.

About three-fourths (74%) of Jewish voters approve of Biden's handling of the ongoing conflict, according to the poll of 800 Jewish voters conducted from Nov. 5 to Nov. 9. Meanwhile, more than two-thirds (68%) said they would support Biden over Trump, the presumptive Republican candidate – slightly less than the portion (74%) who said they voted for Biden in 2020.

About two-thirds (66%) of Jewish voters said they approved of Biden's performance as president, while a recent USA TODAY/Suffolk University survey showed Biden's overall job approval at just 40%.
Jews sure are liberal!
I don't even understand what benefit Trump offers them. It's obvious Trump would be less willing to go along with everything Bibi does, so it doesn't make sense that they vote for Trump because of Israel.
Biden is giving "unconditional support."
"There continues to be extraordinary support for Biden," said Jim Gerstein of GBAO Strategies, the Washington, D.C.-based firm that conducted the poll. "That doesn't happen in a vacuum: Donald Trump, the likely Republican candidate for president, is extraordinarily unpopular with Jewish voters. I would actually expect that to grow as the election gets closer."

The poll, which measured attitudes among the Jewish American electorate about Israel, antisemitism and the 2024 election, found support for Trump at just 22% of Jewish voters, an 8-point decline compared to a pre-2020 election poll.

Sam Markstein, national political director for the Republican Jewish Coalition, said the group was "confident" that the results would not be predictive of November 2024 numbers. Trump, he noted, took 24% of the Jewish vote in 2016 and more than 30% in 2020.

"The trendlines are clear: Jewish voters are moving away from the Democratic Party and toward the Republican Party," Markstein said.

Biden's strongest poll support came from the population's largest voting blocs – reform Jews and those not aligned with any particular denomination. Orthodox Jews were the only group not supporting Biden, with just 22% in favor.

Orthodox Jews were nonetheless among the most likely to approve Biden's handling of the Israel-Hamas conflict. And while young voters were less likely than older generations to approve, they nonetheless support Biden over Trump by an overwhelming margin.

More than 80% of Jewish voters said they approved of specific actions Biden has taken to support Israel in its war with Hamas, including visiting the country and meeting with Israeli leaders, dispatching aircraft carriers to the East Mediterranean Sea to deter would-be aggressors and having senior American officials attend Israeli war cabinet meetings to discuss strategy and offer counsel.

Meanwhile, 80% said they supported President Biden's $14.5 billion request to Congress for military aid to Israel, while 68% approved of U.S. calls for a humanitarian pause to enable safe delivery of food, water and medicine to Gaza.
Interesting.
Now, let's see what actual Americans (who don't have a foreign country they identify as their homeland) are saying*.
U.S. public support for Israel's war against Hamas militants in Gaza is eroding and most Americans think Israel should call a ceasefire to a conflict that has ballooned into a humanitarian crisis, according to a new Reuters/Ipsos poll.

Some 32% of respondents in the two-day opinion poll, which closed on Tuesday, said "the U.S. should support Israel" when asked what role the United States should take in the fighting. That was down from 41% who said the U.S. should back Israel in a Reuters/Ipsos poll conducted Oct. 12-13.

The share saying "the U.S. should be a neutral mediator" rose to 39% in the new poll from 27% a month earlier. Four percent of respondents in the poll said the U.S. should support Palestinians and 15% said the U.S. shouldn't be involved at all, both similar readings to a month ago.

Israel has long counted on the U.S., its most powerful ally, for billions of dollars a year in military aid and international diplomatic support. An erosion of U.S. public support could be a worrisome sign for the Middle Eastern country, which faces not only Hamas militants in Gaza but the Hezbollah Islamist movement in Lebanon and has conducted a long-running "shadow war" with Iran, its regional arch-foe.

…

Some 68% of respondents in the Reuters/Ipsos poll said they agreed with a statement that "Israel should call a ceasefire and try to negotiate."
The Jew poll didn't ask how many supported a ceasefire.
But based on the other results, I think it's fair to guess that it's 20% or less.
That means Jews are more than 3 times more likely than Americans to support the slaughter.
It's not surprising, but it is extraordinary.
The Jews, this little minority, which is loyal only to its own country, are a hulking beast that towers over all Americans.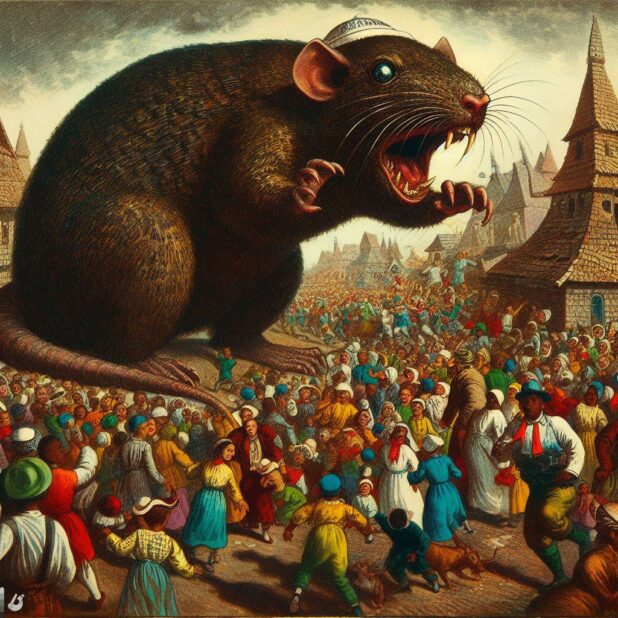 Biden is catering to this tiny minority group, while we all know very well that the reasons he is doing this relate exclusively to the Jewish network of lobbying (bribery) and funding (extortion).
AIPAC will support a Democrat or a Republican in the House. They don't care about any of their other policies. They will go to one of the candidates and say "I've got all this money I need to donate to a candidate in your district." Then: "I'd really like to give you this huge pile of cash, but I'm gonna need you to pledge to support Israel first."
Remember when Ilhan was attacked for saying something so obvious that everyone knows?
It was condemned as "antisemitic."

This means that if you say "Kevin McCarthy is getting money from AIPAC and this influences his obsession with Israel," you hate Jews for literally no reason.
Because of this lobby, the Jews have totally lost control of Bibi.
I also think Bibi is using the Mossad to compile blackmail on all politicians. Some of them submit the blackmail voluntarily, as this allows them to have a guarantee they will be moved up the ranks.
A poll needs to ask: "Should Americans have any say in the way their country is governed, or should the government simply follow directives from organized Jewish lobbying groups?"
It's a fair question. The polls show that the Jews, a small minority group that largely does not identify with America at all, are in charge.
Footnotes:
*I have a foreign country I identify as my homeland.