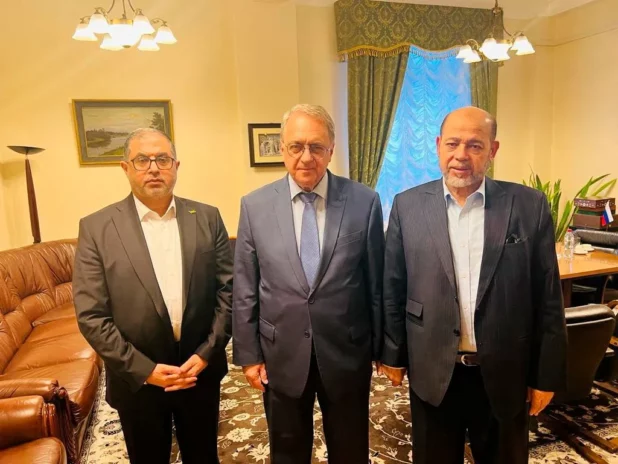 Senior Hamas officials Bassem Naim and Moussa Abu Marzouk, and Russia's Deputy Foreign Minister Mikhail Bogdanov in Moscow on Thursday
Here it is, boys.
The faggot Americans were slurping on the "flute of war" – actually not even really playing the flute, but performing fellatio on it.
Finally, finally, finally – the Russians had enough and brought out the drums.
We await the pounding, but inviting Hamas and Iran to Moscow is effectively a mic check for the drums of war.
If you follow me.
We may also say of this meeting: "the US just keeps dumping buckets of blood in the water, and thinking no one is going to notice – well, someone noticed."
Iran is one thing, but rolling out the red carpet for Hamas – Putin is squaring up for something a lot more hardcore than "bizarre, pointless, exhausting trench warfare in the Ukraine."
Shit is about to get real.
Russia has been condemned for rolling out the red carpet in Moscow for senior leaders of Hamas and Iran — which one alarmed expert called proof President Vladimir Putin is forming a new "axis of terror against the West."
More like the Axis of Justice.
Russian Foreign Ministry officials met with Hamas leaders Bassem Naeem and Mousa Abu Marzouk in Moscow on Thursday, just weeks after their terror group stormed Israel and slaughtered at least 1,400 people, mostly civilians.

The terrorist leaders posed with Russian Deputy Foreign Minister Mikhail Bogdanov, Putin's special envoy in the Middle East — who also met Thursday with Iran's Deputy Foreign Minister, Ali Bagheri Kani.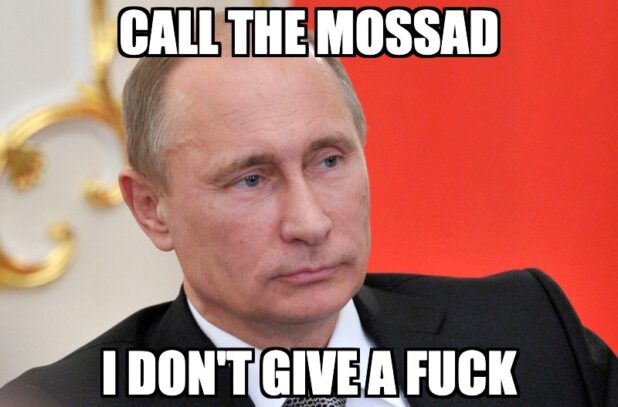 The Iranian official also had his own talks with Hamas' Marzouk while both were guests in Moscow, the Russian state news agency TASS reported Friday.

Hamas later praised Putin — who is currently waging war on Ukraine — for his "stance" on its war of terror on Israel.
We're all bros here.
Putin, Hamas, Supreme Leader of the Irish, Andrew Anglin – this is Bro Club.
We're going to bring down Satan.
The Russian Foreign Ministry said diplomats emphasized "the need for a cessation of hostilities in and around the Gaza Strip and the prompt provision of humanitarian assistance to the affected Palestinian population."

It added that its deputy foreign minister and his Iranian guest, Bagheri Kani, also reaffirmed a shared commitment to "continue close coordination of efforts in the interests of stabilizing the situation in the Middle East."

The meetings set off alarm bells in the West that Russia was forming an alliance with Hamas — with Iran acting as a trusted go-between given its existing role as Russia's supplier of kamikaze drones as well as its long-running support and funding for the terror group.
That is definitely exactly what is happening. This meeting is a public announcement of what I had been waiting for, praying for.
This is like when the Green Arrow introduced Batman to Superman, and they decided to form the Justice League.
In fact, the "Justice League" should be the official forced meme response to the "Axis of Terror" forced meme.
The thing is: the whole world wants Justice.
Justice for Palestine, Justice for everyone who is a victim of the Anal Aggression of US/Israel.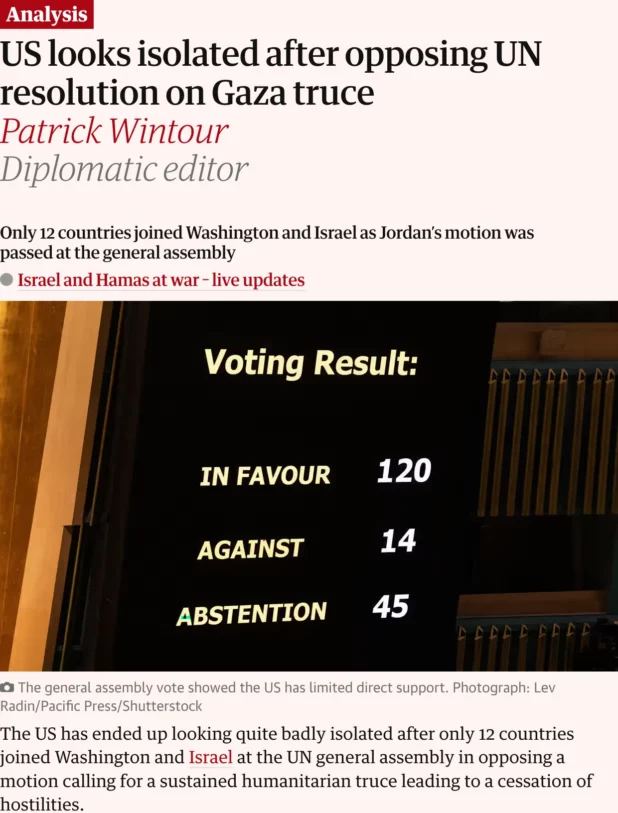 The only people who will vote for this American terrorist machine of hatred and sodomy are countries that are being directly occupied by the US.
The US is pointing guns at the whole world, but 12 of them are shaking in their boots, gobbling up their bribes, or swimming in rivers of poop and semen.
The rest of the world – 165 other countries – are as exhausted as I am by this nightmare.
The world is changing and it is changing now.
Keep your powder dry and your prayer beads handy, because this could pop at any moment.
We are in unknown territory.
Personally, I still think the best option is a total extermination of all life on earth using biological weapons. However, I will settle for a Sino-Russian victory over the forces of gay anal.
⚡️The former head of the Shin Bet of the State of Israel in an interview with Maariv:

If our forces embark on a ground war, only a few of them will emerge.
We have information that specific weapons arrived to Hamas from Korea, Russia, and Iran that were not announced.

We will… pic.twitter.com/3N9zv7BEDT

— Megatron (@Megatron_ron) October 28, 2023
Seriously though: do you see how I put forth a vision, and then the vision manifests?
Not like a prophecy and definitely not like I'm dictating reality.
It's simply that I have the best grasp on what is happening in the universe of anyone. At least of anyone who is publicly sharing their understandings.
I am the best there is.
Why do you think the Irish agreed to acknowledge me as the Supreme Leader of the Irish Race?