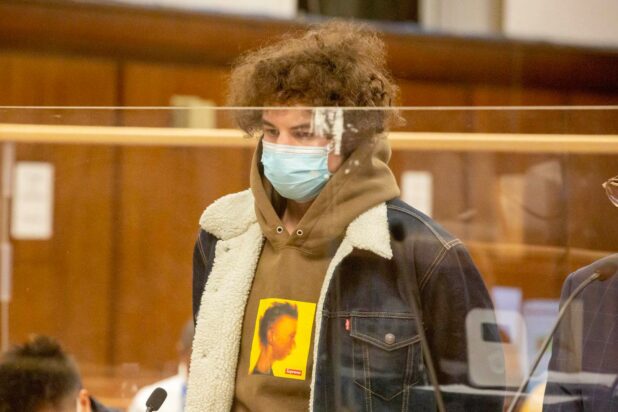 Matthew Mahrer
There is no such thing as an "anti-Semitic attack."
Every real anti-Semite knows that Jews feed off of persecution, and would never directly attack them. Anti-Semites seek to expose the Jews.
All anti-Semitic attacks are Jew hoaxes perpetrated by the Jews themselves.
One of two men accused of plotting to attack New York City synagogues is Jewish and the grandson of a Holocaust survivor, his attorney claimed in court Saturday.

Matthew Mahrer, 22, was ordered held on $150,000 bail at his arraignment in Manhattan Criminal Court on charges of criminal possession of a weapon though his lawyer asked that he be released on his own recognizance.

"There are a lot of questions here," defense attorney Brandon Freycint said of Mahrer, who has allegedly been diagnosed with autism, bipolar disorder, anxiety and ADHD.

"My client is of Jewish heritage. He resides with his parents and his grandfather is actually a 93-year-old Holocaust survivor — and my client is his part-time caretaker," Freycinet said.

Mahrer and pal Christopher Brown were busted Friday on the Long Island Rail Road with brown carrying weapons and a Nazi armband, according to police sources.

Cops seized a loaded handgun with an extended magazine and a bulletproof vest from Mahrer's Upper West Side apartment that he and a buddy allegedly planned to use in a synagogue attack, prosecutors said.

Mahrer's defense attorney, Brandon Freycinet, argued that his client has no criminal history and said he's of "Jewish heritage."

But Mahrer had no criminal record and his parents had cooperated with cops, his attorney said. The accused had spent time in homeless shelters before moving in with his parents about a year ago, the attorney added.

"Based on that, judge, my client should not be implicated in anything involving hatred towards his own people and his own religion," he said.

…

Brown, 21, is charged with making terroristic threats, aggravated harassment and criminal possession of a weapon, the NYPD said. He was not arraigned Saturday.
He was not actually planning on attacking the synagogue. Well, he probably wasn't.
Maybe he was molested by rabbis and was going on a revenge mission.
That's possible.
But it's more likely he was just making the threats to help the ADL with their lists of threats.
EVERY SINGLE TIME

— Uncle Hoss (@Hoss843) November 20, 2022
every.single.time

— Daniel PI (@DanielP70333877) November 20, 2022
EVERY
SINGLE
TIME

— FrenlyFren👧🕊️☮️ ᓚᘏᗢ (@Nice2MeowYou2) November 20, 2022
EVERY. TIME.

— HeatseekerX51 (@That_Happy_Cat) November 20, 2022