https://t.co/zdJm12Hmz8 #PalestineWrites

Full video available here: https://t.co/ZcdEi80e01 pic.twitter.com/BwNU2RRUau

— Roger Waters ✊ (@rogerwaters) September 22, 2023
Despite ongoing efforts to silence Palestinian voices, the Palestine Writes Literature Festival opened at the University of Pennsylvania this weekend following major backlash by pro-Israeli groups over the planned event.#FreePalestine pic.twitter.com/3IMM8JdVk2

— Days of Palestine (@DayPal_official) September 24, 2023
How about instead of universities banning Roger Waters, Roger Waters bans universities?
How's that?
The man said: "WE DON'T NEED NO EDUCATION."
I do, however, think that if we're going to have education, we need dark sarcasm in the classrooms. Stuff like: "Oh, sure – a man can become a woman by mutilating his penis, and eating meat changes the weather. That's as real as the masturbation machines at Auschwitz!"
Pink Floyd co-founder Roger Waters was banned from speaking on the University of Pennsylvania campus amid allegations of anti-Semitism for his wearing a Nazi-inspired uniform and displaying Nazi imagery at a Berlin concert.

The 80-year-old singer-songwriter was set to appear at a panel discussion for the Palestine Writes Literature Festival Saturday. But after landing in the Keystone State, he posted a video on Instagram saying he'd been told he would instead appear via Zoom.

"I was supposed to be taking part in a panel in a couple hours time this afternoon, but I've been told I'm not allowed into the Irving Arena because they made arrangements for me to attend the panel via Zoom," Waters recounted.

"And the fact that I came here all the way to be present, because I care deeply about the issues that are being discussed, apparently cuts no ice with campus police or whoever it is."

In the video, Waters is seen thumbing through a copy of the university newspaper, the Daily Pennsylvanian, which published a story headlined "Palestine Writes festival escalates into campus-wide controversy."

The Friday article states several Jewish students and community members wrote to school administrators condemning alleged anti-Semitism of speakers at the events.

In a letter, senior Eyal Yakoby wrote the speakers' presence on campus creates a "hostile" environment for Jewish students ahead of Yom Kippur — one of the holiest days on the Jewish calendar

Pro-Israel activists also descended on the campus, the article states, parking jumbotron trucks and posting videos on TikTok of some of the speakers' past anti-Semitic remarks.

Though the article didn't mention Waters by name, the singer appeared disturbed by the assertions — saying in the video he was "struck" by the newspaper's claims he's anti-Semitic, and that the student-run paper was reporting on the controversy as a "diversionary tactic" that turned it into "the big news story."
Waters argued the newspaper wanted to "play down" a festival about Palestinian literature taking place.

"If they can get you thinking and talking about anti-Semitism, then you won't be thinking about the fact that Palestinians have no human rights in the occupied territories," Waters said.

"This is what we should be talking about in the Daily Pennsylvanian, not whether Roger Waters is an anti-Semite or not," he continued in the third-person. "And by the way, he's not. I know he's not. Shall I tell you how I know? I am Roger Waters and this is my heart, and it doesn't have even the slightest flicker of anti-Semitism in it, anywhere."

The singer came under fire after donning a long black coat, black gloves and black sunglasses — complete with a red armband — during a May 17 concert in Berlin. The outfit resembled that of an SS officer.
See:
The US State Department subsequently, in a statement, said Waters has "a long track record of using antisemitic tropes" and that his Berlin concert "contained imagery that is deeply offensive to Jewish people and minimized the Holocaust."

Waters, however, defended his costume choice, and said it was a clear stance "in opposition to fascism, injustice, bigotry in all its forms."

"My recent performance in Berlin has attracted bad faith attacks from those who want to smear and silence me because they disagree with my political views and moral principles," he said in a statement.

"Attempts to portray those elements as something else are disingenuous and politically motivated. The depiction of an unhinged fascist demagogue has been a feature of my shows since Pink Floyd's 'The Wall' in 1980."
I still can't even believe they took a 40-year-old satire bit and turned it into a witch hunt.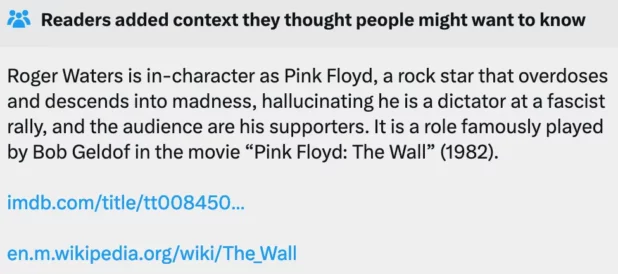 Everyone knows what is going on here: they couldn't just say "you're canceled because you criticized Israel." So they said: "you're canceled because we think your artistic anti-Nazi presentation is actually a promotion of Nazism."
Here is video footage of Roger Waters dressed in facist SS Nazi garb, shooting the machine gun at the show: pic.twitter.com/J3Nkz17Dme

— Ari Ingel (@OGAride) May 25, 2023
Roger Waters is literally anti-Nazi, which is the entire point of the presentation. I don't agree with him, because I support the Nazis (especially Hitler). But that's his position.
This is literally like if you canceled Ralph Fiennes because he played an SS officer in Schindler's List.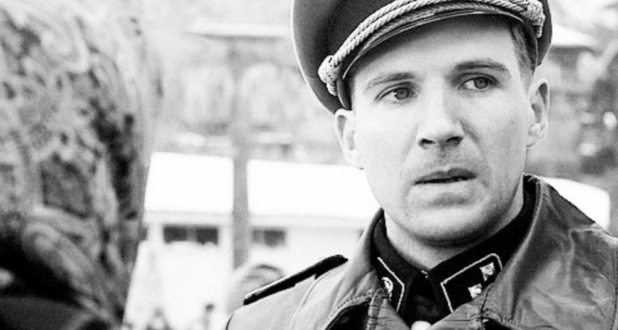 Then when Fiennes was like "yeah but it's just a movie – I was acting in a role in a movie," you responded by saying "yeah we know that, but we think you also are really a Nazi for some reason."
NOTE: Fiennes could also be banned because of accusations that he is really an evil wizard. (Seriously, no joke: this is literally the exact same thing – "it's a movie, I'm not really an evil wizard!" – "sorry, but although it is indeed a movie, we also think that you are, separately, actually an evil wizard and therefore you cannot be allowed to go places, due to our values, which is who we are, staunchly condemning evil wizards.")