🚨Secretary Cardona openly dismissed thousands of American parents who have been speaking out at school board meetings:

"I don't have too much respect for people that are misbehaving in public and acting like they know what's right for kids." pic.twitter.com/QafoiKwAdB

— Nicki Neily (@nickineily) September 22, 2023

I know what you're thinking. When you saw the headline, you said: "Yo, can I get an 'early life' check on this dude?"
I've early life'd him before, however, and he is not Jewish. He's a Mexican.
However, what you will find with these Mexicans and other nonwhite specimens is that they will shill very, very hard. They will shill beyond belief, for the money primarily, but also possibly for the status.
With white men, they just won't really go this hard. Kevin McCarthy is probably the worst white man in America. But these brown people – they have no allegiance to anything, no memory of any allegiance to anything, they are pure business. You tell them what to say, and they will go out there and say it.
This is one of the many reasons Jews are so excited about replacing whites with brown people. Aside from the Moslems, a lot of whom have spines, these brown people will just do whatever.
US Education Secretary Miguel Cardona is calling out parents he says are "misbehaving in public" and then "acting like they know what's right for kids," stating that he doesn't respect their actions.

Cardona made the comments in an interview on the state of education in the U.S., including the recent Supreme Court decisions on race-based admissions and President Biden's attempts to relieve student debt.

During the sitdown, Cardona was asked to expand on prior comments that public education was "under attack."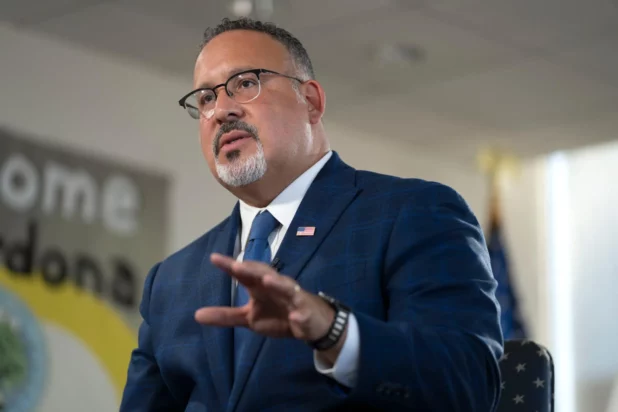 His remarks generated fury on social media, where his comments were interpreted as an insult to concerned parents who have spoken out at school board meetings across the U.S. against COVID mandates, critical race theory and books with too much sexual content.

"I've been in education, you know, about 25 years. Not including the time I was in higher ed as a student. I've never seen it where it is now," Cardona replied.

"There was civility. We could disagree. We could have healthy conversations around what's best for kids," he said. "I respect differences of opinion. I don't have too much respect for people that are misbehaving in public and then acting as if they know what's right for kids."
There are a lot of protests. We see the protests.
But they are totally ineffectual. They are not accomplishing anything. Nothing is happening. This stuff just keeps getting worse, because none of these people care about protesters. They have the power and they are going to use it how they want to use it, and they want your kids to be gay.
Related: Parental Rights Supporters are Like Segregationists, Says Kike National Teachers' Union Boss
Truly, the best thing that anyone with kids can do is leave America.
That's it.
There is no reason to stay. The country is obviously doomed. It is just going to suck you down with it.
It's sad to leave your parents and so on, it's hard to move to a country where you don't speak the language. There are a lot of things that are difficult.
But it just is what it is.
How can you turn your kids over to these people? It's insane.