The Italian island of #Lampedusa doesn't look that Italian. pic.twitter.com/xuBtDZZdJ0

— David Vance (@DVATW) September 19, 2023

Why does this guy keep saying things like this?
How has he not been fired for it?
Migration could be "a dissolving force for the European Union" due to deep cultural differences between European countries and their long-term inability to reach a common policy, the EU's most senior diplomat has said.

Although Russia will try to fan the flames on migration inside Europe, Josep Borrell denied that the war in Ukraine itself was contributing to the crisis, which he described as a decades-old problem fuelled by wars and poverty in departure countries.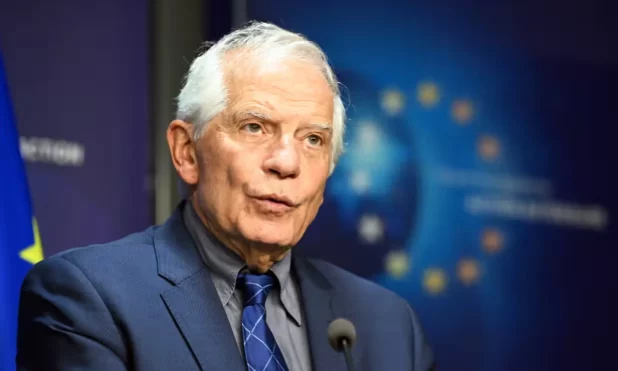 The EU's external affairs commissioner said the bloc had performed miracles in the war, and that it was one of the key forces forging a new world order in which the global south deserved greater respect and power.

In a wide-ranging interview with the Guardian reflecting on how the EU had been changed by the war and where the bloc fits in this new world order, he said European countries had been forced to wake from a siesta on defence spending, in which they had lived under the American nuclear umbrella.

He called for greater defence cooperation and quicker decisions on the supply of weapons to Ukraine and defended the faltering counteroffensive, saying the country was one-third mined and it would have been suicidal for Ukraine to have mounted a full-frontal counterattack.

At a subsequent lecture at the New York University Law School, he said the UN security council had been proved "completely useless in recent years due to its divisions" and called for reform of political and financial institutions to revive a multilateralism that "is outdated and running out of steam".

In recent days Italy's far-right prime minister, Giorgia Meloni, who came to power on the back of controversial rhetoric about the rise of migration, said that she would not allow her country to become "Europe's refugee camp" after 11,000 people arrived on the island of Lampedusa in a matter of days.
This was the Italian island of Lampedusa today

In 30 minutes 35 boats of Africans landed, by late evening that had risen to 100 boats.

The 'far right, fascist' Meloni has now allowed 190,000 boat migrants into Italy & Europe. She was voted in to do the exact opposite pic.twitter.com/1gKH4RqBXB

— joedirt5 (@joedirt501) September 12, 2023
Borrell said nationalism was on the rise in Europe but said this was more about migration than Euroscepticism. "Brexit actually was feared to be an epidemic. And it has not been," he said. "It has been a vaccine. No one wants to follow the British leaving the European Union.

"Migration is a bigger divide for the European Union. And it could be a dissolving force for the European Union."

Despite establishing a shared common external border, "we have not been able until now to agree on a common migration policy", he said.

He attributed this to deep cultural and political differences inside the EU: "There are some members of the European Union that are Japanese-style – we don't want to mix. We don't want migrants. We don't want to accept people from outside. We want our purity."

He said other countries, such as Spain, have a long history of accepting migrants. "The paradox is that Europe needs migrants because we have so low demographic growth. If we want to survive from a labour point of view, we need migrants."
See: Experts Tell People to be Brave and Learn Carpentry Amid AI Takeover of Jobs
Borrell insisted in the interview that the war in Ukraine was not fuelling the current rows over migration. "The issue is that migration pressure has been increasing, mainly due to wars – not the war against Ukraine … It is the Syrian war, the Libyan war, the military coups in Sahel.

"We are living in a circle of instability from Gibraltar to the Caucasus and this happened before the Ukrainian war and will continue after the Ukrainian war. Migration in Africa is not being caused by the war against Ukraine. The root causes of migration in Africa are lack of development, economic growth and bad governance."

…

Borrell predicted that the war in Ukraine, and the eventual outcome of its struggle, would be one of the three driving forces creating a new world order, alongside competition between China and the US, and the rise of the global south.

He admitted he was no fan of the term "global south" to describe such a heterogeneous group of people, but that an entity exists that "consider themselves part of an alternative to the western models". He said it was critical to "try to avoid the alliance of China plus Russia, plus parts of the global south".
Yeah, it's too late for that.
You people shouldn't have caused all these problems if you didn't want the whole world aligning against you.
Zambia President Hakainde Hichilema to Xi Jinping:

"We appreciate your role in positively altering the global order so that the global south can take our rightful place in the league of nations." pic.twitter.com/TnR0r4t6o2

— COMBATE |🇵🇷 (@upholdreality) September 15, 2023