"It's basically not a hospital anymore, and that poses some very difficult questions."@DominicWaghorn reports after the WHO described al Shifa hospital in the war-ravaged Gaza Strip as a "death zone" with a "desperate" situation inside.

📺 Sky 501 pic.twitter.com/YcM8kzsWvA

— Sky News (@SkyNews) November 19, 2023
.@WHO has led a second @UN and @PalestineRCS mission to Al-Shifa Hospital in #Gaza today, under extremely intense and high-risk security conditions.

31 very sick babies were evacuated, along with 6 health workers and 10 staff family members.

6 Palestine Red Crescent ambulances… pic.twitter.com/YJc25M0vnc

— Tedros Adhanom Ghebreyesus (@DrTedros) November 19, 2023
31 out of 36 premature babies were safely evacuated from Al-Shifa Hospital in #Gaza city through a mission by @UN and @PalestineRCS.

Their condition is now being stabilized.

The other five babies had already died due to lack of electricity and fuel: https://t.co/Q4osOOioTQ pic.twitter.com/SkTZe3s5sA

— UN Humanitarian (@UNOCHA) November 20, 2023
These UN people are braver than I thought.
I assume they are definitely going to be murdered by the Jews. This is a real suicide trip.
Israel kills all the international journalists. Of course they will kill UN agents. Zelensky, who is Jewish, bombed UN agents.
Jews don't even care. They will just blame other people for their acts!
Dar al-Shifa, the Gaza Strip's largest hospital, has become a "death zone", the World Health Organization has said, with a mass grave at the entrance and only 25 staff left to care for 291 seriously ill patients after orders from the Israeli army to evacuate the complex.

The WHO managed to access the medical centre in Gaza City on Sunday after it was raided by Israeli forces earlier this week. Israel alleged the militant group Hamas used al-Shifa as a command centre, identifying it as a key target in its military operation despite international outcry.

The Israel Defense Forces (IDF) released video footage on Sunday of what it said was a 55-metre tunnel 10 metres underground, which it had uncovered underneath a shed in the hospital complex.
Assuming that's true, it proves nothing.
There are tunnels under all of Gaza.
Obviously, they didn't find any Hamas guys under there… because they would have left through the tunnels.
The Jews targeted this hospital because murdering civilians is Jew policy. There is no other reason.
It also released footage it said showed one Thai and one Nepalese hostage, dated from the 7 October Hamas massacres, that appeared to be from Shifa's CCTV system. The identities of the two men were not given.
OPERATIONAL UPDATE: IDF and ISA forces revealed a significant 55-meter-long terrorist tunnel, 10 meters underneath the Shifa Hospital complex during an intelligence-based operation.

The tunnel entrance contains various defense mechanisms, such as a blast-proof door and a firing… pic.twitter.com/tU4J6BD4ZG

— Israel Defense Forces (@IDF) November 19, 2023
About 2,500 people, among them many sick and injured, including amputees, walked south from the area of al-Shifa on Saturday after being told to leave, the hospital director said, picking their way through ruined streets and rotting corpses.

On Sunday, the WHO and Palestinian Red Crescent started evacuating those who were unable to flee on foot, including 32 babies in extremely critical condition, trauma patients with severely infected wounds due to a lack of antibiotics, and 29 patients with serious spinal injuries.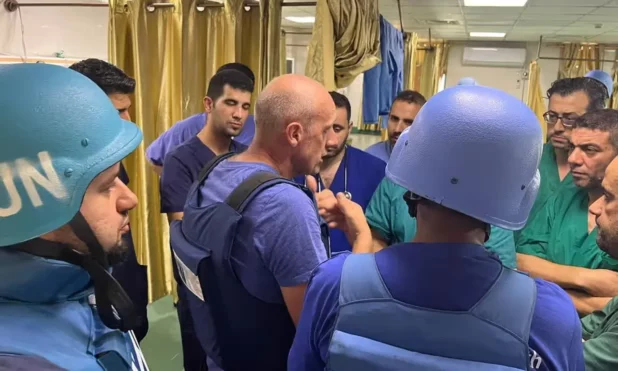 The babies were taken to the south of Gaza "in preparation for their transfer to the Emirates hospital in Rafah" in Egypt, the Palestinian Red Crescent said in a statement, through the Palestinian territory's only connection to the outside world.

Regarding the other patients, the WHO warned that facilities in Gaza's south, which is supposedly safer than Gaza City, were already overwhelmed and an immediate ceasefire was needed given the extreme levels of suffering.

"Patients and health staff with whom they spoke were terrified for their safety and health, and pleaded for evacuation," the UN agency said, describing al-Shifa as a "death zone".
Yeah.
As reporters on the ground described seeing ambulances travelling north to Gaza City to assist with the Shifa hospital evacuations on Sunday, news emerged from the international NGO Médecins Sans Frontières (MSF) that one person was killed when a convoy carrying staff and family members came under attack on Saturday while evacuating from its clinic near al-Shifa, despite coordinating its passage with both sides.

At least 40 people, including eight premature babies, died this week at al-Shifa because of a lack of electricity to operate life-saving equipment such as incubators and dialysis machines, the UN has said.

The desperate struggle on Sunday to keep the rest of al-Shifa's most vulnerable patients alive as they are evacuated south comes as Israel has said it is expanding its operations to destroy Hamas to areas south of Gaza City, raising fears for the hundreds of thousands of civilians who have sought refuge there after being told by the IDF that it would be safer.

"With every passing day there are fewer places in which Hamas terrorists can roam about … People who are in the southern Gaza Strip will understand that soon as well," the Israeli defence minister, Yoav Gallant, said on Saturday night.
No one has ever done this before.
No one has ever done anything remotely like this before.
Then, somehow, the Jews have the nerve to pretend like they don't understand why people dislike them.