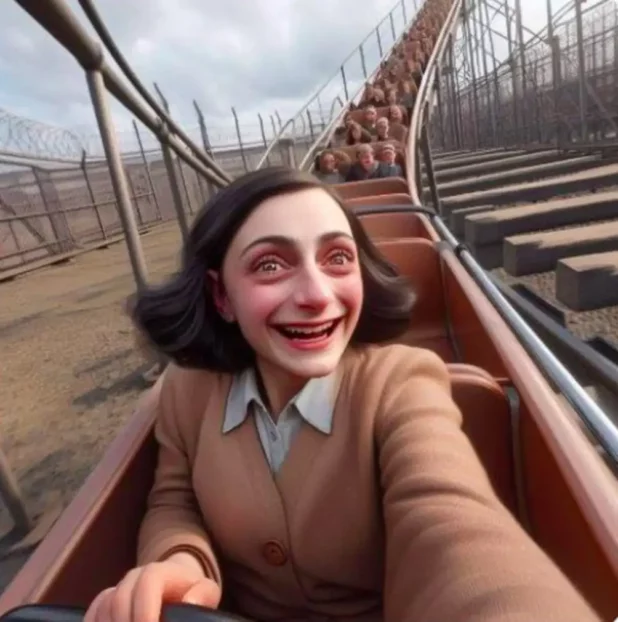 See: Serious Story of Anne Frank (Seriously Not Even Funny)
If it's a nonsense conspiracy, then why do you go to jail for it?
People don't go to jail for flat earth or whatever, do they?
A prominent member of a neo-Nazi group was sentenced to two months in prison for projecting an antisemitic conspiracy theory onto the Anne Frank House Museum, the Amsterdam building in which Frank and her family hid from Nazis during World War II.

Robert Wilson, a Polish-Canadian national, had been charged with insulting a group and inciting discrimination for casting the scrolling phrase "Ann [sic] Frank invented the ballpoint pen" onto the side of the museum in February with a laser projector mounted in his van.

Though the words seem innocuous, they are a reference to a nonsense conspiracy theory that the Jewish teen's famous diary was a forgery.

The incident sparked immediate outrage through the Netherlands, with Dutch Prime Minister Mark Rutte condemning what he called a "reprehensible" act.
SICKENING- antisemites project a laser onto the Anne Frank house in Amersterdam, referring to Anne Frank as the "inventor of the ballpoint pen"

The internet meme is spread by Holocaust deniers who falsely claim her diary was written using a pen that never existed in WW2 pic.twitter.com/voI5cYQWZn

— StopAntisemitism (@StopAntisemites) February 10, 2023
1/Goyim Defense League member Robert Wilson was extradited to Amsterdam to face charges of projecting an antisemitic message on the Anne Frank House. Wilson's prosecution may be the test of a new Dutch law outlawing Holocaust denial speech. https://t.co/KnpZ0uphp0 pic.twitter.com/BPI4DGU97G

— Canary Mission (@canarymission) September 14, 2023
Wilson — who was not in court for the verdict — has already spent two months in pre-trial detention, therefore already effectively serving the sentence.

…

The phrase Wilson projected was a reference to a theory pushed by Holocaust deniers that claims Frank's journal is fake because several pages found among her papers were written in ballpoint pen.
Anne Frank was a slut.
I hope they shut down all her museums.
What retardedness.